WELCOME TO THE TROYE SIVAN WIKI
THIS WIKI IS UNDER CONSTRUCTION
Please help by contributing to the wiki!
Welcome to the Troye Sivan Wiki! This wiki is an online collaborative encyclopedia dedicated to YouTuber, singer, songwriter, and actor, Troye Sivan!
TROYE SIVAN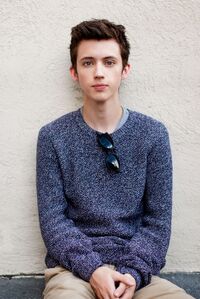 Troye Sivan Mellet (born 5 June 1995), better known as Troye Sivan, is a South African-born Australian actor, singer, songwriter, and YouTuber. As an actor, he played young James Howlett in the X-Men film, X-Men Origins: Wolverine(2009); and most recently has starred as the titular character in the Spud film trilogy. Sivan also regularly makes YouTube videos. His video, "The 'Boyfriend' Tag", with fellow vlogger Tyler Oakley earned them a Teen Choice Award in the "Choice Web Collaboration" category. As of 26 September 2015, his self-titled YouTube channel has over 3.6 million subscribers and over 203 million total views. In October 2014, Time named Sivan as one of the "25 Most Influential Teens of 2014". On 15 August 2014, Sivan released his first major-label EP, entitled TRXYE, which peaked at number 5 on the Billboard 200. On December 4, 2015, Sivan released his debut studio album, titled "Blue Neighbourhood
POLLS
What do you think of WILD (ft. Alessia Cara)?
What do you think of the new music video for YOUTH?
Which video of the Blue Neighbourhood music video trilogy is your favorite?
Have you purchased Blue Neighbourhood?
TASK LIST
*Administrators and Content Moderators and Translators wanted! If interested, message MichelleZhang for more information.
As much as I like to think that the pages on this wikia don't need any fixing (or at least, that's what I tell myself when I'm too lazy to edit). Say! Why don't you do the work for me, I mean, help out! Plenty of pages here need to have more information added or reworded and all that good stuff. If you don't have a specific page in mind that you think really is a hot mess, I mean, really needs to be cleaned up, why don't you start by fixing the top pages on the wiki? To see said pages, click here!
WANTED PAGES. No, we don't mean we have sentient crime-committing articles. We mean pages that people (me) clearly want to add, but are too lazy to do it, so they (I) just add a link to the page that doesn't exist in the hopes that someone else will make the page for me. Now if you want to help out, you can click here to see all of the wanted pages. Note that some of these wanted pages are completely unnecessary, and there may be a differently-titled page with the same topic somewhere else in the world. In this case, be sure to link the page to the original article and not the copycat.
Everyone gets under pressure at some point in their lives. Links are no exception to this. The difference, however, between links and people, is that people snap and links break. Help us fix these broken links by either deleting them (it's not as bad as it sounds) or by giving the link something to link to (see above bullet point)
Labels are not very popular. But sometimes, you need a way to group things together. That's the whole point of categories after all! Don't worry, articles aren't like people. Quite the contrary, article like being labeled. Articles enjoy being classified. So make these articles happy. If you want to donate them a category click here to see a list of the unfortunate pages who were never given any.
I'm very lazy. Sometimes, I'm so lazy, I don't even want to read a whole article. I just want to know this person's birthday, I don't want to have to go all the way down to the Early Life section just for that! And that, my friend, is why infoboxes are here! But some pages are without these glorious time-saving devices. That is why I am bequeathing YOU (yes, you!) with the task of adding infoboxes to all of these pages! Or, you know, you don't have to, but if you did that'd be really nice.
Classify templates. Click here to see a list of all the templates without type.
Fix spelling and grammatical errors on articles. Do it for us crazy perfectionists.
One thing that this wikia is completely lacking of is audio files. This is primarily a music wikia after all. I mean really, at the moment all of our audio is being played through SoundCloud previews. Who wants that? If you're interested in helping us create a more complete Troye Sivan source, why don't you start by adding audio files of his music?
Besides being a singer, Troye Sivan is also a YouTuber. And YouTubers make videos. And a YouTuber wikia without videos is an absolute disgrace. If you're looking to help out, why not start by adding more videos to the wikia? Music videos, interviews, videos from Troye's YouTube channel. As long as Troye's in video, we want it (Unless of course, that video has already been uploaded to the wikia). Click here to start adding videos!
You know what really helps one visualize what an article is talking about? Images. After all, as Alice once said, "What good is a book with no pictures?" Sadly, a lot of the pages on the wikias lack just that. You can click here to upload more images to the wikia and here to find the wretched articles who (*gasp*) don't have any images! ... At all! (*shudder* the horror)
Maybe you've noticed a thing called a badge pop up on your user page. That's because it's yours! You've earned it! Now, the great thing about badges is that you can customize them to fit the wikia's theme. Maybe you've noticed a few badges called "Blue Neighbourhood" or "Happy Little Pill". If you like 'em, help us bestow more badges with such badge-epicness by suggesting badge names or sending badge images here!
We at the Troye Sivan wikia are of the people, by the people, and for the people (yes, we're American). Therefore, we're always looking for new ways to get users involved in the wiki. What better way to do that than by hosting a contest? You heard right my friends. Here's a contest for a contest. Submit a winning contest idea, and you could win...well...I don't know yet, but if you win and you want something specific, message me and we'll work something out! You'll also get a special badge. Even I don't have such a badge!
Are you multilingual? If so, you might be interested in expanding the Troye Sivan Wikia's reach to transcend language barriers! In other words, create a version of this wikia in another language! If you're interested, please leave a message by clicking here! Note that there is already a Troye Sivan Wikia in Spanish.
If you're rule-crazy interested in helping us out, why don't you start by editing our policies and editing guide! Note that you will have to request access from an admin to temporarily lift these articles' protection barriers and allow you to edit (to request access, click here)
Remember what you were always told in school? CITE YOUR SOURCE! So help us add references to our articles. An example of a page with references can be found here.
AFFILIATED YOUTUBER WIKIS
AFFILIATED ACTOR/ACTRESS WIKIS
AFFILIATED MUSIC WIKIS
Other YouTube Wikis
Other Music Wikis